Myrtle Beach is one of the most expensive and popular beaches in South Carolina. It is present on the Atlantic Coast with incredible restaurants, golf clubs, and premium outlets all around it. Myrtle Beach is the heart of the Grand Strand. Myrtle Beach hotels are peaceful, luxurious, welcoming, and pet-friendly. At Myrtle Beach, you will experience a comfortable environment with all the luxuries and advanced equipment. Myrtle Beach is the best place to visit and spend the vacations in pet-friendly hotels for several guests who come with their furry friends. These hotels act as the perfect place for you and your furry friends.
1.   Ocean Park Resort, Oceana Resorts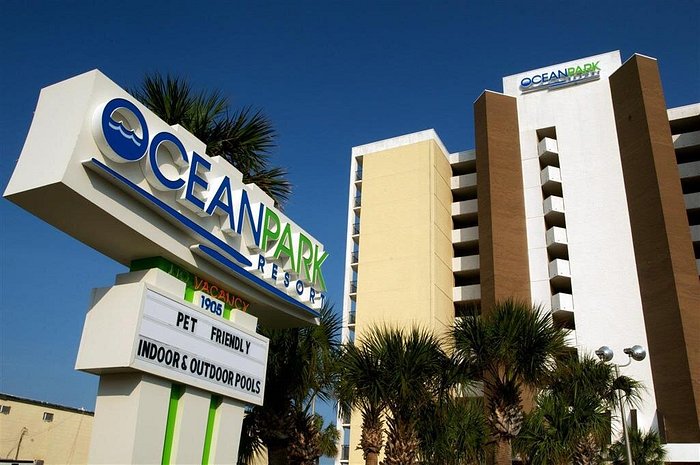 Ocean Park resort offers you comfortable, quality time with your family and friends. The 125 well-appointed rooms and suites, each with a private balcony and a sea view, allow you to see nature with your own eyes and feel it with ease. It gives you the perfect essence of your vacation. You can also visit the Family Kingdom amusement park from Ocean Park in 30 minutes of walking.
Myrtle Beach property with Wi-Fi, air conditioning, laundry, hot tub, heating, swimming pool, free parking, and proper VRBO property for several days stay at Myrtle Beach urges you to stay there for several days. A proper kitchen with advanced appliances is available for those who prefer cooking inside rather than eating out. Ocean Park provides all the necessary spots you miss in other resorts and hotels. It makes you love the place and the Beach, of course!
2.   Patricia Grand Resort Hotel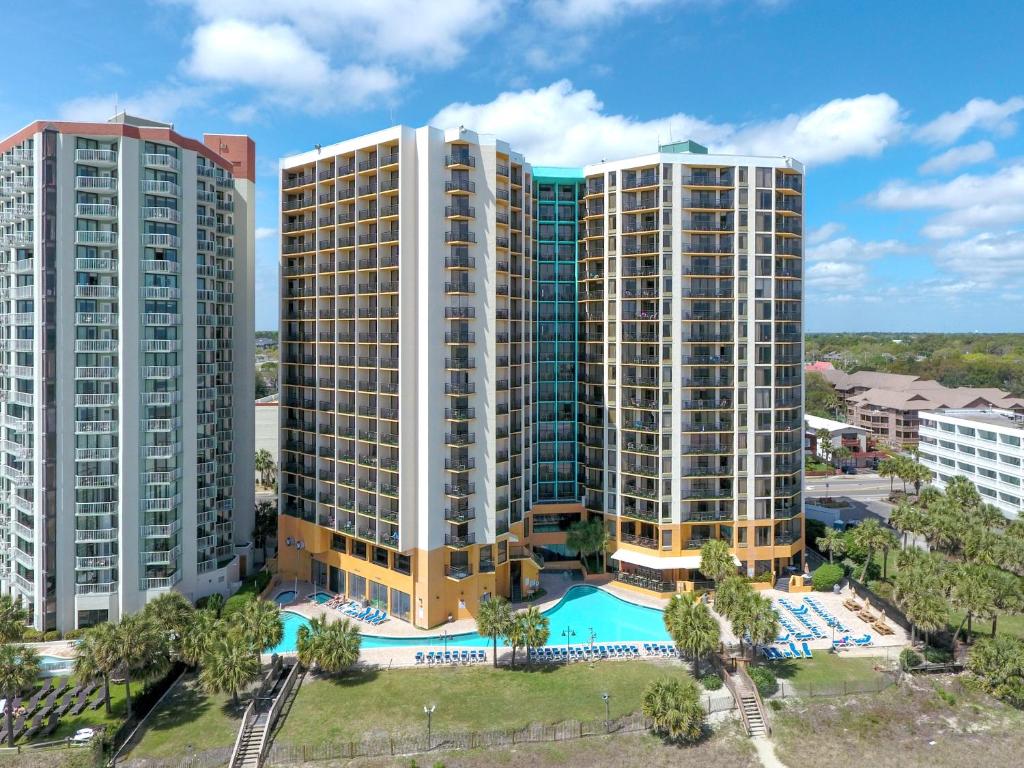 A stay at Patricia Grand Resort is worth it. The Patricia Grand Resort Hotel is a pet-friendly hotel only 1.2 miles away from Myrtle Beach. Some of the exciting facilities you will enjoy during your stay in the hotel are well-furnished rooms with private balconies, free Wi-Fi, pool access, ocean front, and a free parking area. You will love the indoor river and the outdoor beach on a sweet sunny day in winter. Pets are permitted at the hotel on request, with some additional fees. Overall, staying at Patricia Grand Resort will give you a relaxing vacation feel.
3.   DoubleTree Resort by Hilton Myrtle Beach Oceanfront
Doubletree, a 27-acre resort, is situated at the end of the ocean boulevard. It welcomes your furry friends with an open heart. DoubleTree Resort has various facilities to enjoy your vacations at their best close to the beach. The reasonable prices, private beach, free Wi-Fi access, 40-inch LEDs, and free bike rentals for two hours make it an even more comfortable and exciting place to visit.
4.   Country Inn & Suites by Radisson, Myrtle Beach, SC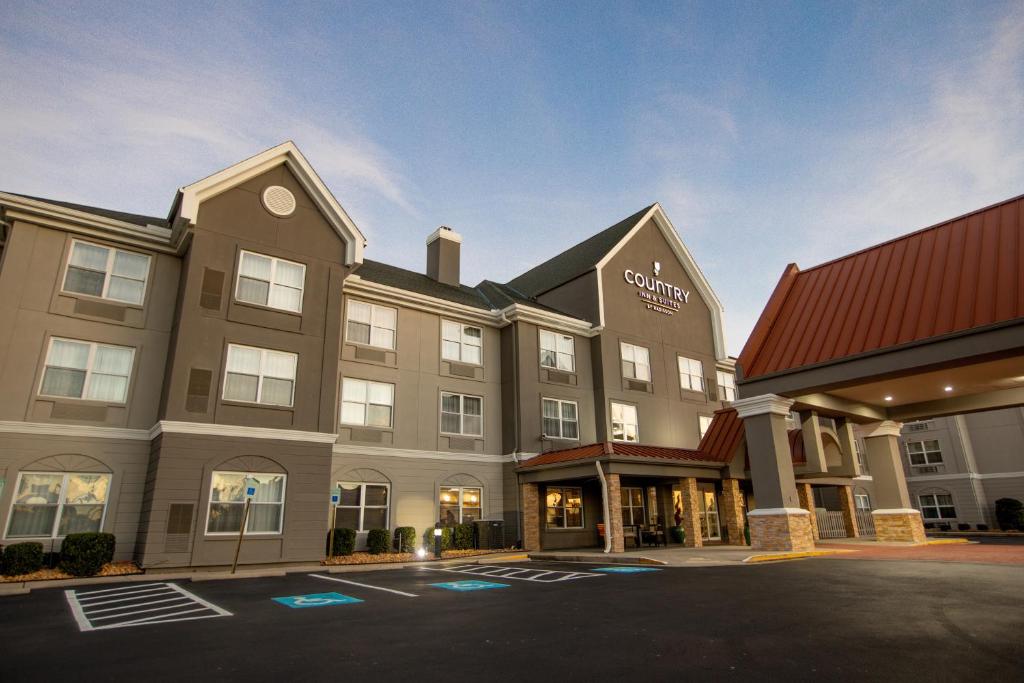 Myrtle Beach Country Inn and Suites by Radisson are about 3.5 miles away from Myrtle Beach. Parling, an indoor pool, and Wi-Fi are available for guests. The hotel welcomes pets by charging some additional fees. Also, Country Inn takes extra care of the guests, who can relax in the pool or enjoy the 24-hour fitness facility. The Outlet Park at Waccamaw Shopping Center, Legends Golf Course with Heathland, and the course at the beach are the main attractions near this hotel.
5.   The La Quinta Inn & Suites by Wyndham Myrtle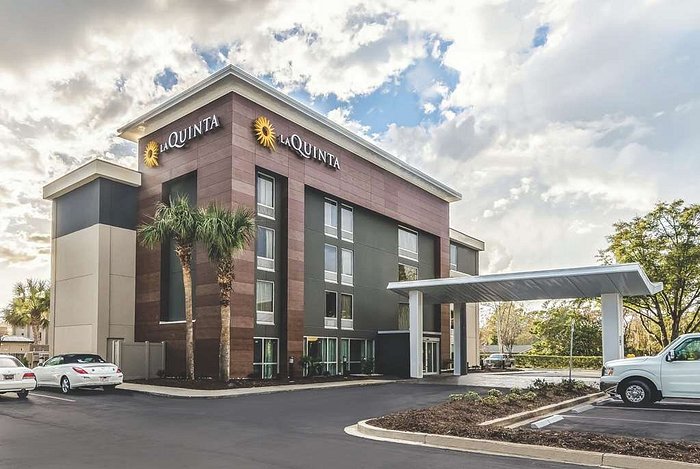 The La Quinta Inn & Suites by Wyndham Myrtle Beach-Broadway area is only 5 miles away from the beach. Some amazing places, like Pavilion Park and Dragon's Lair Fantasy Golf, are near the La Quinta Inn & Suites. Free breakfast, a fitness center, and an outdoor pool make it even more convenient for international visitors. Myrtle Beach International Airport is just 3.3 miles away from these suits.
According to reviews from past visitors, people enjoyed taking strolls through the area and neighborhood. This is one of the most dog-friendly hotels near Myrtle Beach.
6. Staybridge Suites Myrtle Beach-Fantasy Harbour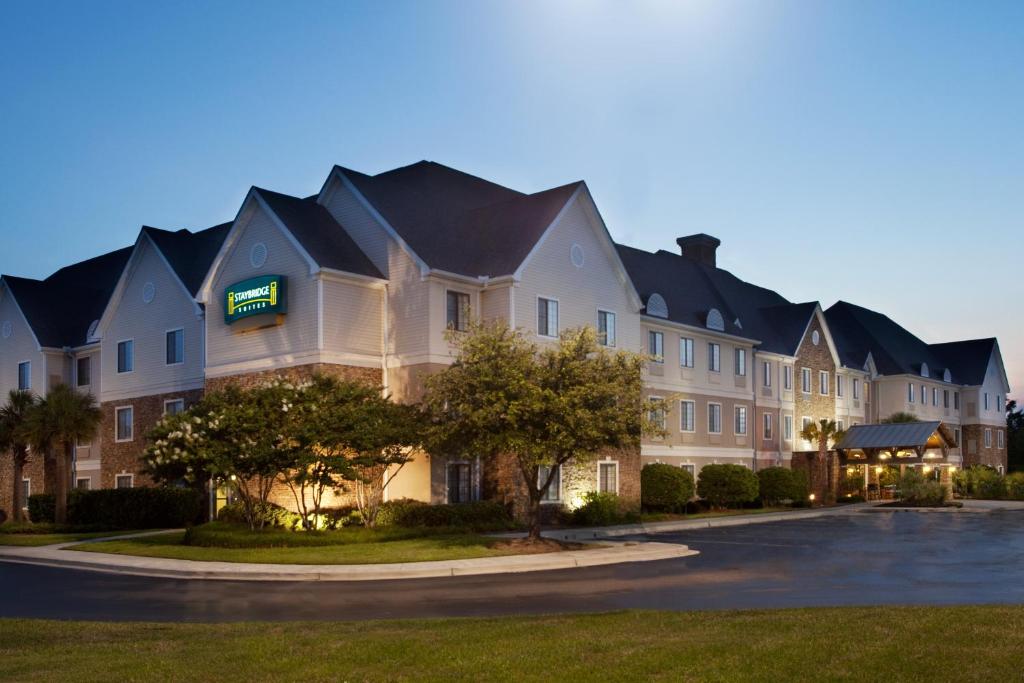 Staybridge is a high-rated hotel in Myrtle Beach. They provide special airport transportation services to the Myrtle Beach International Airport, which is 3 miles away from Staybridge. Free Wi-Fi, a proper kitchen, and cable TV make it even more comfortable for visitors. Waccamaw Factory Shoppes, Plantation Square Shopping Center, Outlet Park at Waccamaw Shopping Center, and Freestyle Music Park make it even more attractive and feasible for tourists. In short, Staybridge provides you with every possible necessity within it and around it, so you can fully enjoy your vacations.
7.   Compass Cove Oceanfront Resort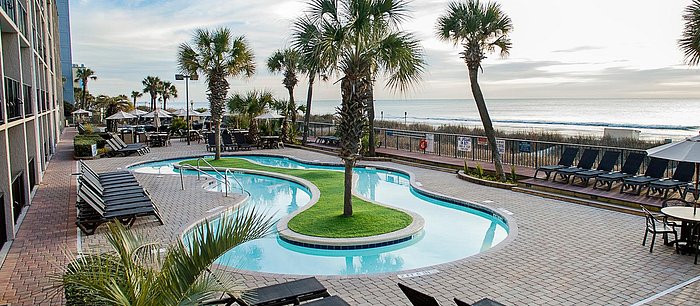 Compass Cove is situated in the middle of the town and has about 500 rooms. It has its famous breakfast buffet, which attracts more tourists. The resort has seven hot tubs and several games for the guests, including a giant chess board, shuffleboard, and an indoor arcade. Pets are prohibited from March to October, and cats are not allowed at any time.
8. The Mermaid Inn
The Mermaid Inn is just 2.4 miles away from Broadway at the beach. Free Wi-Fi, flat screens, and cable TV are provided in every room. The outdoor pools are also provided to be pet-friendly for the guests. It has many other qualities, like being a beachfront hotel, pet-friendly, and providing a free parking area for the guests.
9.  Comfort Suites Myrtle Beach Central 
The comfort suits are best for vacations and business trips. They are just 2.2 miles away from the Myrtle Beach International Airport. Free Wi-fi, a fitness center, and parking are available within the hotel. Several utilities like golf courses, the Atlantic Ocean, and eateries are nearby. It welcomes cats and dogs all the time.
10.  Westgate Myrtle Beach Oceanfront Resort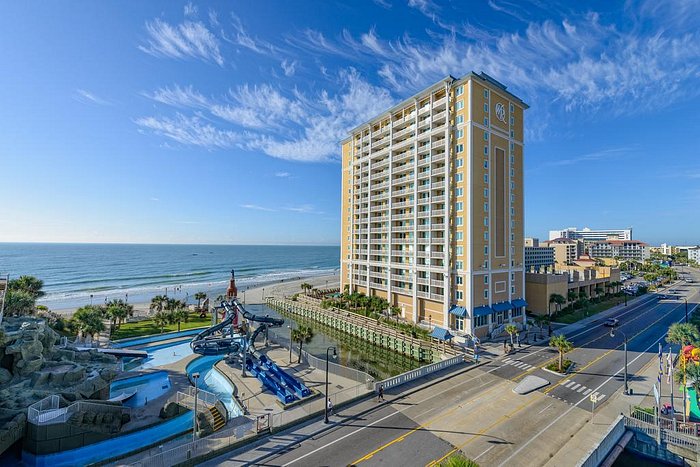 Another hotel on the beachfront that directly accesses the beach and has a premium outdoor pool. All the other amenities, like entertainment, shopping, and eateries, are just a few miles from the hotel. The international Myrtle Beach airport is just 2.1 miles away from the resort. You can take your pets with you, but it requires additional charges.
Frequently Asked Questions (FAQs)
What Are The Best Pet-Friendly Hotels In Myrtle Beach?
Many pet-friendly hotels in Myrtle Beach provide proper facilities for your pets. The Breakers Resort, Sea Mist Oceanfront Resort, Long Bay Resort, Compass Cove Oceanfront Resort, and Mermaid Inn are some of the best ones.
Do Any Pet-Friendly Hotels In Myrtle Beach Offer Free Breakfast?
Yes, some pet-friendly hotels in Myrtle Beach offer free breakfast for their guests. But it is not available in all the hotels. Some hotels offering free breakfast are Sea Mist Oceanfront Resort, Long Bay Resort, and Compass Cove Oceanfront Resort.
How Much Does It Cost To Stay At A Pet-Friendly Hotel In Myrtle Beach?
The cost of staying at a pet-friendly hotel in Myrtle Beach may vary depending on the facilities and services provided by the hotel. But, on average, it costs around $100-$200 per night.
Final Verdict: Pet-Friendly Hotels In Myrtle Beach
We've got you covered if you're looking for a pet-friendly hotel in Myrtle Beach. Our list of the best pet-friendly hotels in Myrtle Beach will help make your decision easy. These hotels offer great amenities like free breakfast, Wi-Fi, and direct access to the beachfront. So what are you waiting for? Book one of these hotels today and enjoy a relaxing vacation with your furry friend by your side!