Charleston, South Carolina, a city steeped in history and brimming with Southern charm, welcomed an impressive 7.68 million visitors in 2022 alone.
It's not hard to see why. The past comes alive in Charleston, from cobblestone streets to antebellum mansions. But this city is more than its rich history. It's a culinary hotspot, a beach paradise, and an adventurer's playground.
Whether you're a foodie, history buff, or outdoor enthusiast, Charleston will captivate your heart.
In this article, we'll journey through eleven must-see spots in Charleston that add to its magnetic allure. So, buckle up for an unforgettable exploration of the South's beloved gem.
Is Charleston, SC, A Good Travel Destination?
If you've been searching for a travel destination that effortlessly combines history, charm, and natural beauty, your search ends at Charleston, South Carolina.
This captivating city, nestled along the South Carolina coastline, is a treasure trove of experiences waiting to be discovered. But what exactly makes Charleston a must-visit destination? Let's dive in.
Rich Historical Tapestry
Charleston isn't just a city; it's a living, breathing history lesson. Every corner of this city tells a story, from the cobblestone streets to the antebellum mansions. Take a stroll through the historic district or visit the iconic Fort Sumter, and you'll be transported back in time.
Culinary Delight
Charleston's food scene is a gastronome's delight. The city is renowned for combining traditional Southern cuisine with modern influences. Whether you're indulging in fresh seafood at a waterfront restaurant or sampling the local barbecue, your taste buds are in for a treat.
Natural Beauty
From sun-kissed beaches to lush gardens, Charleston is a paradise for nature lovers. Explore the enchanting Magnolia Plantation & Gardens, or soak up the sun at Folly Beach. The city's natural beauty is sure to leave you spellbound.
Vibrant Arts and Culture Scene
Charleston's vibrant arts and culture scene is another reason to put this city on your travel bucket list. There's always something happening in the Holy City, from art galleries and music festivals to performing arts theaters.
11 Things To Do in Charleston as a Tourist
There's almost everything for everyone in Charleston. If you want to start from the ancient culture, there are museums, if you are a foodie person, there are over 200 restaurants that you can choose to eat from!
We have made a list of 11 things to do in Charleston, and let's start with these right away!
Fort Sumter National Monument
Stepping onto the Fort Sumter National Monument grounds is like stepping back in time. This sea fort, perched on an artificial island in the heart of Charleston Harbor, played a crucial role in American history.
It's here where the first shots of the Civil War were fired, marking the start of a conflict that would shape the nation. Fort Sumter stands as a testament to America's past, constructed after the War of 1812 as part of a network of forts designed to protect coastal harbors.
Visitors can explore the fort's well-preserved ruins, take in panoramic views of the harbor, and learn about the monument's historical significance through informative exhibits and knowledgeable park rangers.
Why is it special? It's not every day you can roam a piece of living history. The fort's walls echo with stories of bravery and conflict, offering a unique perspective on the Civil War era.
Visiting Fort Sumter is easy, with regular ferry rides available from Liberty Square or Patriot's Point. While there's no entrance fee for the monument itself, there is a charge for the ferry ride, which includes a tour guided by National Park Rangers.
Charleston City Market
One of Charleston's most iconic landmarks, the Charleston City Market, is a must-visit destination for anyone seeking to experience the city's rich culture and vibrant local scene.
With its history dating back to the 1790s, the market spans four city blocks and is one of the oldest public markets in the United States.
One of the market's most notable offerings is the Sweetgrass Baskets. These intricately woven baskets are a testament to a centuries-old tradition brought over by West African slaves. They serve as a tangible connection to the city's past and are a must-have souvenir for visitors.
But the market isn't just about shopping. It's a place to experience Charleston's spirit and vibrancy.
From March to December, the Charleston City Night Market comes alive on Friday and Saturday evenings with over 100 talented artists and craftspeople, offering a different vibe and a unique way to enjoy the city's nightlife.
Here's a quick look at some common items you can find at the Charleston City Market and their approximate price range:
| | |
| --- | --- |
| Item | Price Range |
| Sweetgrass Baskets | $30 – $200+ |
| Handcrafted Jewelry | $20 – $100+ |
| Local Art Prints | $10 – $50+ |
| Handmade Soaps | $5 – $20 |
| Charleston Themed T-Shirts | $15 – $30 |
Magnolia Plantation and Gardens
Magnolia Plantation and Gardens is a must-visit for anyone in Charleston, SC. Established in the 1670s, it's not only one of the oldest plantations in the South but also home to America's oldest public gardens.
What is the best way to enjoy this spot?
Take a leisurely stroll through the lush, blooming gardens, explore the plantation house, and take a guided nature tram tour to discover local wildlife.
Don't forget to visit the Audubon Swamp Garden to see birds, turtles, and alligators. It's a place where history, culture, and nature beautifully intertwine.
The Battery and White Point Gardens
The Battery and White Point Gardens stand out as must-visit spots for history enthusiasts or nature lovers.
The Battery, located at the southernmost tip of the Charleston peninsula, is a defensive seawall and promenade steeped in history. It's named 'The Battery' for its historical use as a coastal defense artillery battery during the Civil War.
What to See in White Point Gardens?
White Point Gardens, located within The Battery, is a serene 5.7-acre public park known for its beautiful live oaks and stunning views of Fort Sumter and Charleston Harbor.
You can explore the park's Civil War-era cannons and the monument dedicated to the Confederate Defenders of Charleston. These historical artifacts are silent reminders of the city's rich military history.
But it's not all about history. The park's picturesque setting is popular for picnics, leisurely walks, and weddings. So whether you're a history buff or simply looking for a peaceful spot to unwind, White Point Gardens is a destination that caters to all.
When you visit The Battery and White Point Gardens, you're not just exploring landmarks; you're stepping into chapters of history and experiencing the timeless beauty of Charleston. So, don't forget to add these spots to your Charleston itinerary!
South Carolina Aquarium
The South Carolina Aquarium is a must-visit attraction in Charleston, SC. It's a place where you can immerse yourself in the wonder of water, wildlife, and wild places.
The journey through its exhibits takes you from the mountains to the sea, showcasing South Carolina's native animals and plants.
Notable highlights include the Sea Turtle Care Center, where injured turtles are rehabilitated and released back into the wild, and the touch tank, where you can get up close with marine life. Don't miss the Coastal Plains exhibit, home to an albino alligator. It's a fun and educational experience for all ages!
Rainbow Row
Rainbow Row, a series of thirteen vibrant historic houses in Charleston, South Carolina, is a sight to behold. Dating back to around 1740, these Georgian row houses originally fronted the Cooper River and were part of the city's bustling waterfront district.
Today, they're one of the city's most iconic landmarks, attracting tourists worldwide with their unique charm and colorful facades.
The story behind Rainbow Row's distinctive colors dates back to the 1930s when local resident Dorothy Porcher Legge purchased a section of these houses. She painted pastel pink to breathe new life into the dilapidated buildings, inspired by the colonial Caribbean color scheme. The trend caught on, and the other houses on the row soon followed suit, each adopting a different pastel hue.
Here are some tips for capturing the perfect shot of Rainbow Row:
| | | |
| --- | --- | --- |
| Tip | Why It Works | Something Unique |
| Visit Early or Late | The soft morning or late afternoon light can enhance the colors and reduce shadows. | Try capturing the reflection of the houses in a puddle after a rain shower for a unique perspective. |
| Use a Wide-Angle Lens | This will allow you to capture all thirteen houses in one shot. | For an artistic touch, frame your photo with natural elements like tree branches or flowers. |
| Experiment with Angles | Don't just shoot straight on. Try different angles for a more dynamic photo. | Capture a shot across the street to include Charleston's iconic horse-drawn carriages. |
Visiting Rainbow Row is like stepping into a living postcard, where history and beauty blend seamlessly. It represents Charleston's enduring charm and symbolizes the city's preservation efforts. So, don't forget to add this colorful spectacle to your Charleston itinerary!
Patriots Point Naval & Maritime Museum
The museum offers immersive exhibits that bring the history of the Vietnam War to life. It also highlights the history of the Congressional Medal of Honor and celebrates its recipients.
One of its key attractions is the World War II-era aircraft carrier USS Yorktown. This ship was actively used during the war and now serves as the museum's centerpiece, educating visitors about war history.
| | |
| --- | --- |
| Exhibit/Attraction | Description |
| USS Yorktown | The legendary aircraft carrier that was used during World War II |
| Vietnam War Exhibit | A fully immersive 2 ½ acre exhibit that brings the history of the Vietnam War to life |
| Congressional Medal of Honor Exhibit | Highlights the history of this prestigious award and celebrates its recipients |
So, if you're in Charleston and have a keen interest in maritime history, make sure to visit the Patriots Point Naval & Maritime Museum!
Arthur Ravenel Jr. Bridge
The Arthur Ravenel Jr. Bridge, a marvel of modern engineering, is a cable-stayed bridge that spans the Cooper River in South Carolina, connecting downtown Charleston to Mount Pleasant. Opened to traffic in July 2005, it was the longest cable-stayed bridge in North America at the time.
The bridge's construction started in 2001 and was completed in 2005. Its two diamond-shaped towers, each standing 575 feet high, became the tallest structure in South Carolina.
Experiences like Walking or Biking Across
The bridge provides an exhilarating experience for walkers and bikers alike. Its pedestrian lane offers breathtaking views of the Charleston harbor and skyline.
Whether you're a fitness enthusiast looking for a challenging workout or a leisurely stroller seeking scenic beauty, crossing the Arthur Ravenel Jr. Bridge is a memorable experience.
Historic Charleston City Jail
The Old Charleston City Jail has a dark and storied history. From 1802 until 1939, this imposing structure housed Charleston's most notorious criminals. Over the years, it's been home to various inmates, from pirates and Civil War prisoners to 19th-century criminals.
Ghost Stories and Tours
Today, the jail is known for its ghost tours, which are popular among locals and tourists. The eerie atmosphere and paranormal sightings make it a must-visit for those interested in the supernatural. Many visitors report feeling a chill in the air; some claim to have seen apparitions of former inmates.
Middleton Place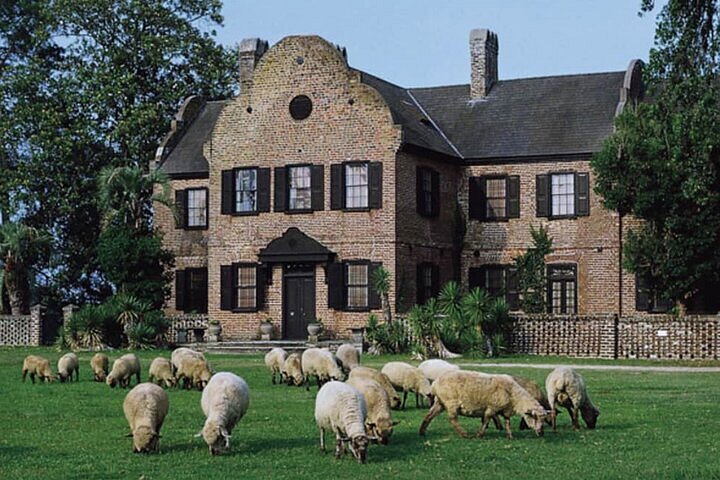 Middleton Place is a National Historic Landmark and home to America's Oldest Landscaped Gardens.
The plantation was established by the Middleton family in the 17th century and played a significant role during the American Revolutionary War.
The property includes the House Museum, filled with original furniture, silver, paintings, and documents that tell the story of the Middleton family.
Visitors can explore the immaculate gardens, tour the house museum, and visit the stable yards where craftspeople demonstrate skills common in the 18th and 19th centuries. The on-site restaurant serves dishes inspired by traditional Low Country cuisine, offering a taste of the region's history.
King Street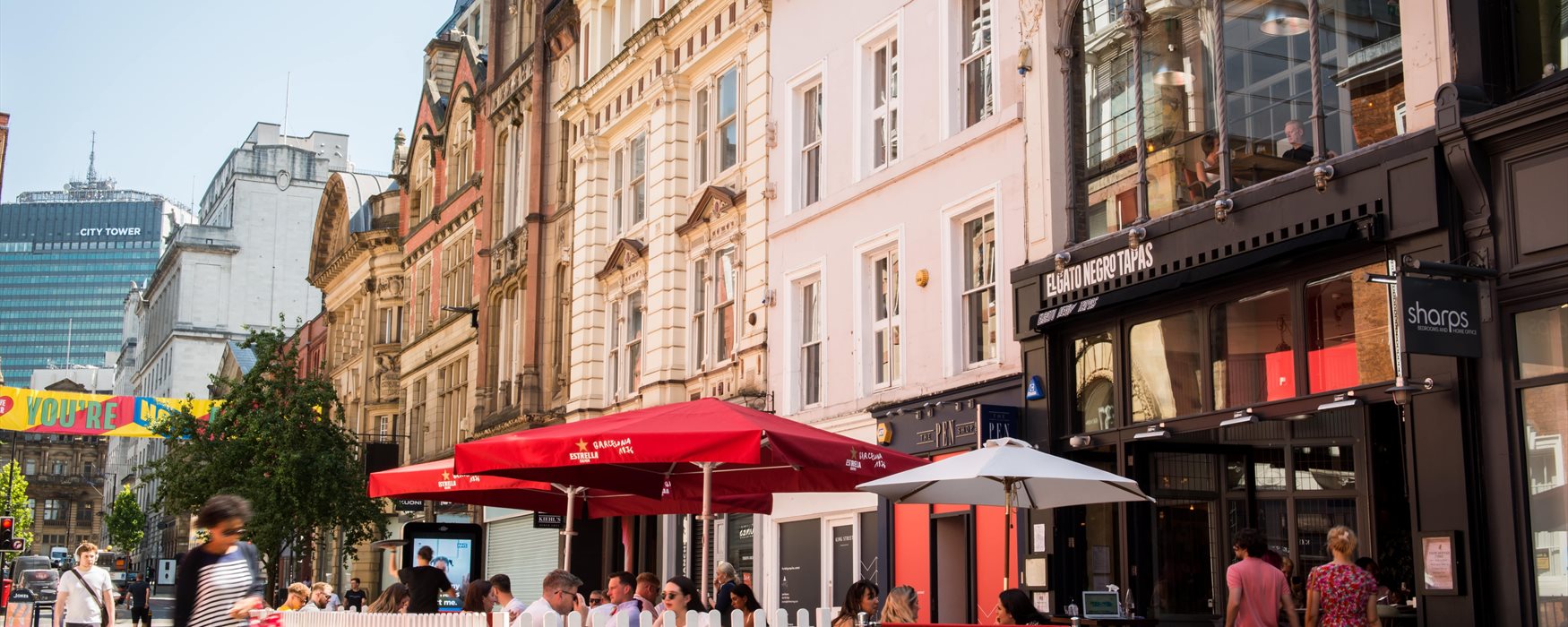 King Street, the retail heart of Charleston, is a shopper's paradise. It's lined with a mix of local boutiques and high-end designers, alongside various dining options ranging from cozy cafes to gourmet restaurants.
King Street is also known for its vibrant events and festivals. The most famous is "Second Sunday," when the street becomes a pedestrian zone filled with live music, food vendors, and special sales.
The "Charleston Holiday Market" transforms King Street into a festive shopping experience during the holiday season.
Frequently Asked Questions (FAQs): Things To Do In Charleston SC
What Is Charleston Popular For?
Charleston is popular for its rich history, charming architecture, southern hospitality, and vibrant culinary scene.
How Many Days Is Enough To See Charleston, SC?
Ideally, spending 3 to 4 days in Charleston allows you to experience its main attractions and immerse yourself in its unique atmosphere.
Is Charleston A Romantic City?
Yes, Charleston is often considered one of the most romantic cities in the United States, with its historic charm, scenic views, and romantic dining options.
Can You See Charleston In 2 Days?
While a longer stay allows for more exploration, a well-planned 2-day itinerary can cover many of Charleston's key attractions.
Finally: Enjoy Your Stay, and Check Out These Best Hotels For You!
Charleston, SC, is a city that effortlessly blends history, culture, and natural beauty. Whether you're discovering marine life at the South Carolina Aquarium or simply relaxing on the serene local beaches like Folly Beach and Isle of Palms, there's something for everyone.
Don't forget to stroll down King Street to taste the local culture. As your day ends, you know you'll need a quiet and cozy place to sleep. If you are on a budget and want to get a very affordable hotel in Charleston, we have chosen some of the best hotels you can directly book from here:
| | | |
| --- | --- | --- |
| Hotel Name | Starting Price/ Night | Nearby Visiting Areas |
| Wentworth Mansion | $300 and up | Charleston City Market, Battery & White Point Gardens, Waterfront Park |
| Barksdale House Inn | $200 and up | The Citadel, Marion Square, King Street Shopping District |
| Belmond Place Charleston | $500 and up | The Historic Charleston City Market, Rainbow Row, The Battery |
| Hotel Bennett | $400 and up | Marion Square, King Street, College of Charleston |