Famous for its greatest sunset view from the skyline, NEW YORK CITY is not just a city, it's a world of charming neighbourhoods and cultural attractions, known as one the most vibrant and diverse cities in the world.
Enjoying romantic dinners on a rooftop under the stars, having a walk hand in hand through Brooklyn Bridge with the appealing culinary experience of arts, and entertainment, New York's call for making moments more memorable with your loved ones attracts millions of visitors every year.
If you are planning to visit this city that never sleeps and wants to make endless stories of love with your partner and looking for romantic things to do that can't stop you from falling in love and adding a timeless touch of romance to your visit, then this blog offers you 10 best romantic things to do in NYC that takes you on the new meaningful height of love with every heartbeat.
Here, we have compiled a comprehensive list of motels to stay at in New York. Additionally, you can explore more accommodation options on our platform.
Let's dive into the details.
Stunning visit to Central Park
The heart of Manhattan, full of great activities whether it is the heat of summer or dead winter, CENTRAL PARK, is the best romantic park in the entire world to fall in love. With loads of romantic experiences, this 843 acres of green space has many areas to explore and fun to do.
If you are meeting your love for the first time or have been a happily married couple for many years, this place offers a peaceful time to do activities away from the hustle and bustle of the city. Known as the most romantic spot in Central Park, Bow Bridge, you can walk across this iconic bridge.
Admiring the appealing architecture, renting a boat, enjoying the ride by taking a leisurely carriage, spending time together with adorable animals in the park Zoo, exploring and picking one flower from the romantic flower display in Shakespeare Garden, and breathtaking view of the sunset make your evening more magical and adding one more charming memory in your romantic escape.
Romantic Food Date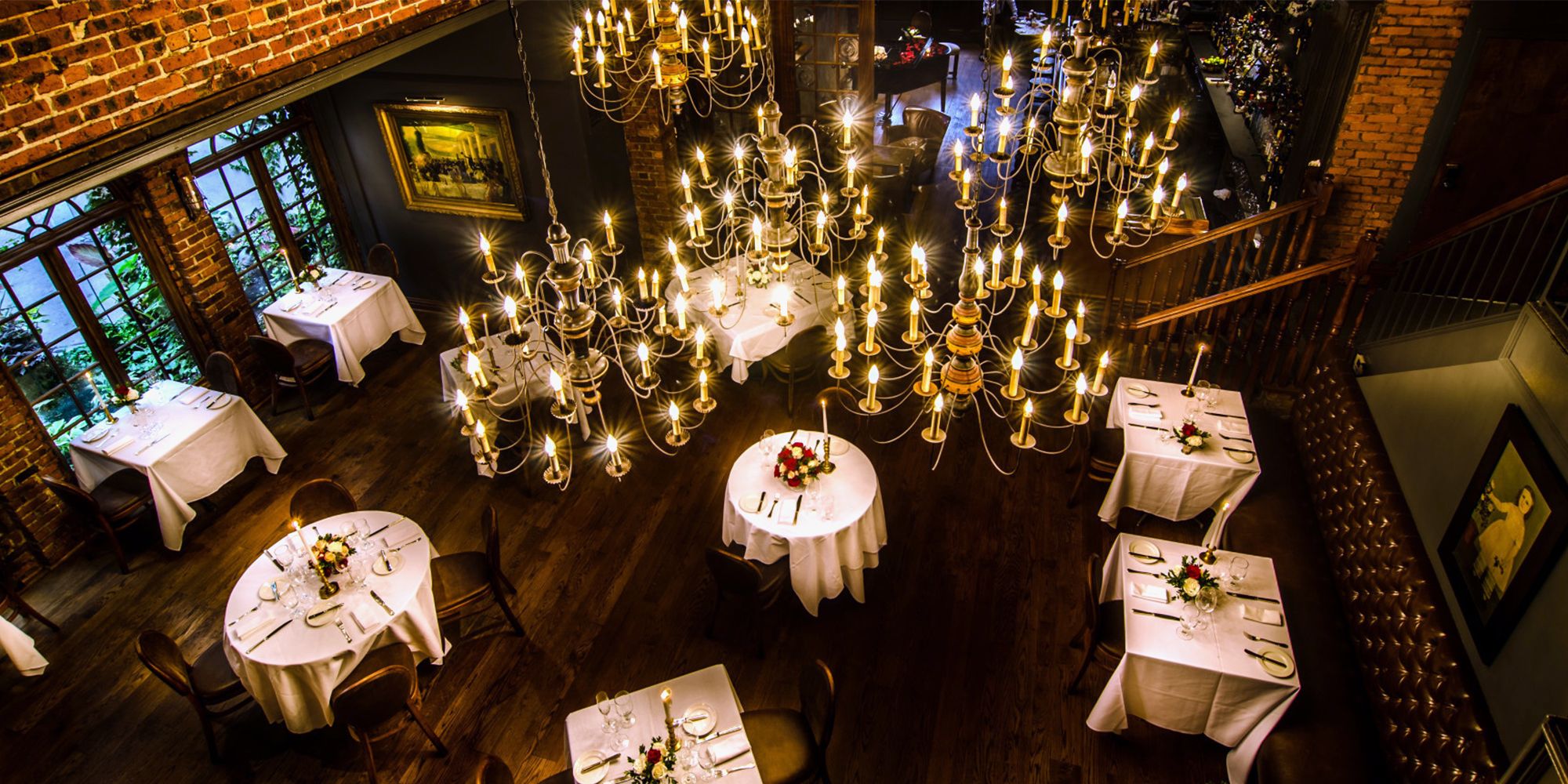 Relationships or dates are incomplete without food. Romantic food date is a delightful way of spending quality time and exploring culinary culture to create unique bonds and ever-lasting memories with your loved one.
Engaging in a food date in New York City is truly a romantic experience. You have a variety of options for dining according to your preferences.
To make your food truly special, and adventurous, make reservations in advance on popular rooftop restaurants, with appealing views of diverse neighborhoods, or consider any of the intimate cafes, ambiance, location, or food points according to your taste and interest to strengthen the emotional connection with your partner.
To add the element of excitement, One If by Land or Two If by Sea offers you a more casual and romantic atmosphere.
Enjoy food in the vibrant city of New York with your loved ones and don't miss the chance of making memories together.
Ghost Tour to Greenwich Village
Mostly when you are looking to spend romantic time with your partner, then ghost tours are not the first thing you consider but if you and your partner love crime stories and are a fan of spooky themes, then visiting the horror place can be a perfect date.
Greenwich Village in New York City has a rich history of quirky tales and is known as a haunted location to explore for fans of the horror genre.
Strolling hand by hand through the historic streets at night, listening to horror stories, and exploring haunted spots, create moments of excitement and closeness.
Holding onto each other and discovering hidden corners of Greenwich Village makes this date idea thrilling and unique.
A ghost tour intrigued by the supernatural is an offbeat and unconventional way of spending time and building a strong bond.
Whitney Art Museum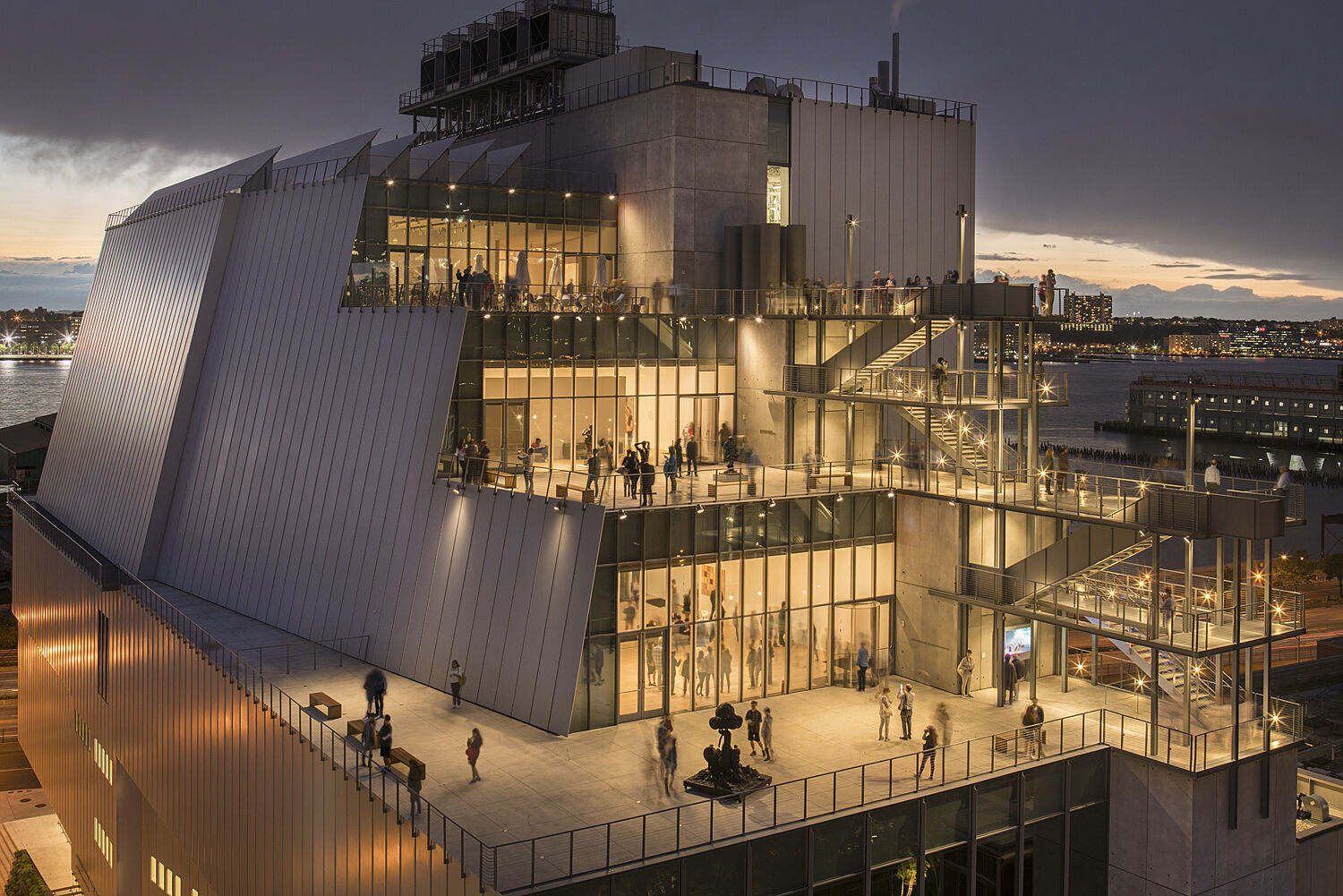 For best communication, reflection, and expression, art holds immense importance for art lovers. If your partner is an art lover, then for evoking emotions, and creating a spark in your bond, visiting the Whitney Art Museum in the city of New York is a great idea.
A great source of joy and inspiration for spending some meaningful and romantic time with your loved one.
Appreciating the beautiful showcasing of American artists from the 20th and 21st centuries, delightful conversations about the museum's unique architecture, and sharing thoughts while wandering through the galleries of artwork, are great ideas for intellectual stimulation with your partner.
Enjoying the beautiful view from the outdoor terrace of the museum and talking about art, society, and innovations is a profound way of connecting with your partner's thoughts and then ending your visit to the museum reflecting on the memories you have created.
Exploring Botanical Gardens
Enchanting surroundings, a perfect atmosphere, and a romantic stroll through the diverse range of plant species is a very romantic activity.
Chance to see beautiful and eye-catching plants, and learn about their characteristics is something that can only be understood by the plant lovers.
Visiting such a stunning place and forgetting to capture the special moments is impossible. So don't forget your camera to take snaps in this perfect setting.
Exploring such an engaging, vibrant, and aesthetic garden enhances the overall appeal and evokes positive emotions.
From captivating scenes to photographs, the botanical garden ensures a controlled environment with its lush greenery, tranquil ponds, and pleasing flower beds creating a charming backdrop of spending time together.
Sitting on the bench, enjoying a leisurely picnic amidst the greenery with a beautiful charming background is a romantic way of spending happy hours with your loved one. Moreover, the lightning display in the evening adds an extra touch of romance to your visit.
A Day At Coney Island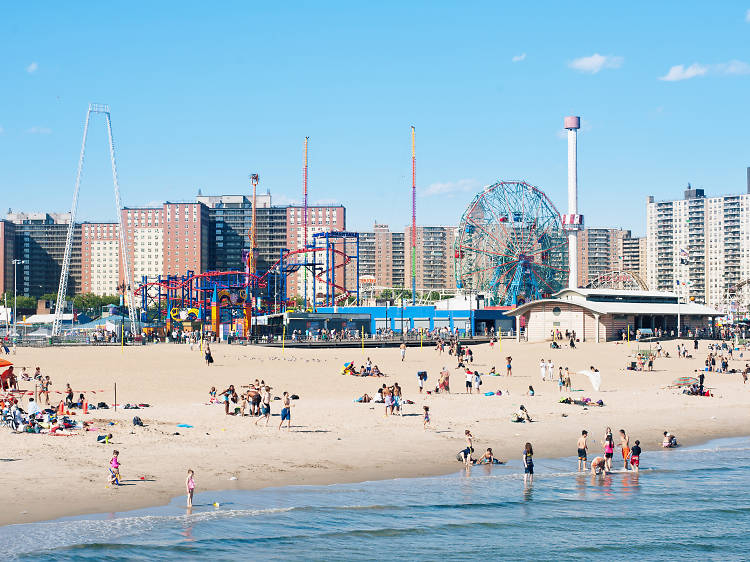 Coney Island, famous for its beach, attractions, and Broadwalk is a popular amusement area and the best place to add the element of romance to your visit to New York City.
A romantic sunset walk on the sandy shores of Coney Island Beach, appealing views of the city skyline, peaceful views of the ocean, a dip in the Atlantic ocean, cozy picnic on the beach, walking hand in hand, and enjoying the sound of waves make this destination a unique place for couples.
Rides together on Wonder Wheel Ferris, Cyclone roller coaster, and stationary and swinging cars add thrill to the visit.
A home for exploring the history of the island as a couple, experiencing the excitement of circus sideshows such as fire eating, and sword swallowing, participating together in daring performances, attending the creative exhibitions, gazing at the ocean while enjoying delicious seafood at the beachfront restaurants, capturing the colorful celebration of art and culture, and visiting the New york Aquarium.
A Sip Of Cocktail At A Rooftop Bar
For a successful romantic date, cocktails complement the mood of the couple. Celebrating special moments together with the refreshing and romantic flavor of the subtly sweet and elegant drinks is a timeless choice.
Engaging multiple senses from sight to taste and smell, stimulates a more enjoyable overall dating experience.
These places give you a chance to try something new and memorable and share experiences together.
Whether it is a sophisticated cocktail or hearted, it reflects the ambiance you want. You feel free from nervousness and anxiety, open up in front of your partner, and enjoy the moment more fully.
In your cocktail date what matters the most is the connection between you and your loved one, these cocktails just contribute to creating a positive atmosphere.
Watching the sunset view together from the rooftop with a sip of cocktail, writing a short note for each other, and capturing the moment enhances the overall dating experience.
Dancing Night Out At House Of Yes
Dancing night out for a romantic date is a fantastic idea. It plays a profound role in promoting a better intimate and physical connection. The night filled with music at House of Yes fosters a sense of unity among couples. Dancing and learning steps with your partner build trust, improve coordination, and strengthen bonds. It helps in keeping the spark alive in the relationship.
Enjoying each other's company in an expressive way is a creative idea for a romantic date. Couple participation in the themes and workshops ranging from dance classes to fostering creativity helps in injecting fun into their lives.
Impressing your partner by playing the music of his/her choice is a creative idea to make you feel special.
Dress up with your partner, experience a mesmerizing circus, and avail great photo opportunities to facilitate emotional connections at House of Yes allowing love birds to connect on a deeper level and dance wildly the night away together.
Whisk Ride On The Helicopter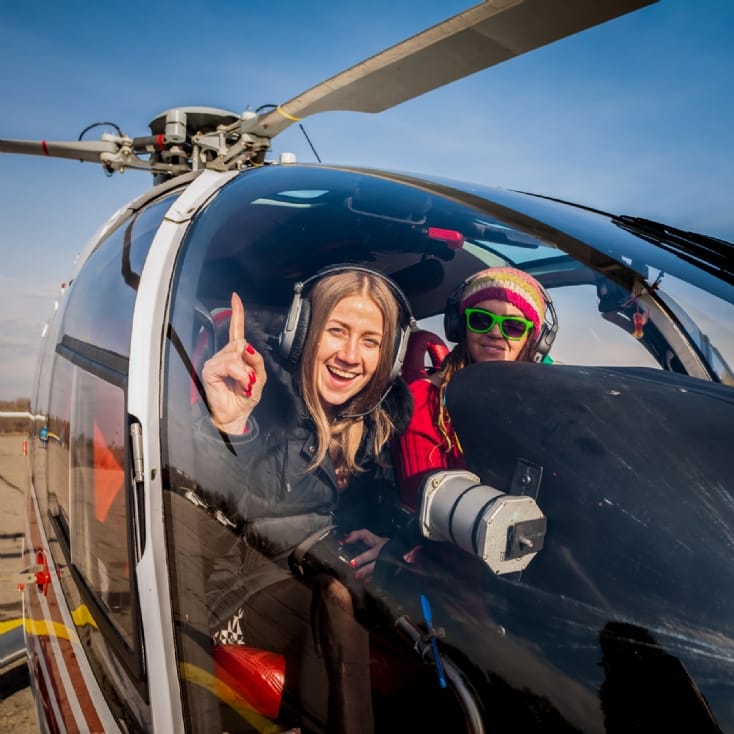 A helicopter ride with your special person is a relatively expensive and unique romantic way to make your loved one feel special. This ride is not just an activity, it is an emotion that connects the souls of a couple.
This shared adventure is an unforgettable memory of doing something exciting together. You can spend quality time and focus solely on each other up and away, away from distractions and daily tensions, work, and routines.
Breathtaking aerial views of an entire city, landmarks, and landscapes foster a sense of awe. This relaxing and peaceful ride encourages meaningful conversation.
Overcoming much nervousness, this experience builds trust between partners and is a symbolic gesture to reach new heights in their relationship together.
Celebrate your special moments such as birthdays, anniversaries, or any event that is special for your partner, and create lasting memories and strengthen your bond.
Rooftop Films Under The Sky
Watching a film in an open-air setting is a very immersive experience for couples. An elevated view from the rooftop enhances the cinematic atmosphere.
Experiencing such a memorable outing under the stars with your special one is one of the stunning ideas of doing romantic things in New York City.
New York City offers many outdoor film screenings like Rooftop Cinema Club. With good audio quality, proper equipment setup, seating arrangements, and comfort, they make couples feel like a special event.
The great food and drink services also contribute to this successful rooftop movie night. With the view of the city skyline, this hosted movie night is just like a romantic novel experience. You can book reservations in advance according to your mood, dates, location, and choice of film to add more spice to the romantic night on the rooftop.
Frequently Asked Questions (FAQs)
How Can I Spend a Romantic Weekend in NYC?
You can do lovely things like walk in parks, see tall buildings, and eat yummy food with someone special.
Where Can I Go for My Anniversary in NYC?
You can go to pretty places like fancy restaurants, nice parks, or even watch a show together to celebrate your special day.
Why Is New York Romantic?
New York is like a big storybook with twinkly lights, grand bridges, and sweet songs. That's why many people feel love there.
Is New York the Most Romantic Place?
Some people say yes because it's exciting and has lots of love spots, but others think different places are most romantic. It depends on what you like best.
Choose any of These Romantic Things to Do in NYC to Spice Things Up in Your Relationship!
New York City offers many activities and romantic things to do according to your preference and point of interest.
Visiting any corner of the world, the most important thing is the time you spend with your partner, and if this corner of the world is New York City, then the above-mentioned 10 best romantic activities are great value for money.
Its enchanting views provoke emotions and connect the soules more strongly. Invest and make your stay memorable in New York City by taking an appealing bite out of the apple.
I'm Usama Ali. A Content Strategist, copywriter, and editor with over 10+ years in writing. I love to explore the beauty of the world and write about all the personal experiences I have, find the best deals of hotels, and write reviews on hotels after getting surveys, travelling to hotels, and also give tips and tricks to save money on tours using motel.com's blog.