"When you're hangry, the only thing that matters is food. Whether it's cheap or expensive, it doesn't matter at that moment. However, in a city like Atlanta, finding the best yet affordable food can be quite challenging.
According to one source, the average meal here can cost more than $40 a day! But if you're looking to indulge without emptying your wallet, you've come to the right place.
Today, I'm going to discuss the top 5 restaurants that, in my opinion, offer the best combination of taste, quality, ambiance, location, and friendly staff.
These restaurants will leave your taste buds tingling while keeping your pockets full. So, let's get started and explore your options for the best budget restaurants in Atlanta, Georgia."
5 Best Budget Restaurants in Atlanta That will Surprise You!
Without further ado, let's embark on a culinary journey through Atlanta's dining hotspots which are not only popular among food lovers for their sumptuous offerings, but also prove that you don't have to compromise on taste or quality while dining on a budget.
Aviva by Kameel
On of the best Budget Restaurants in Atlanta, Georgia – Aviva by Kameel, nestled in the heart of Atlanta, Georgia, has earned the title of the top-rated lunch restaurant in the city, making a significant mark on the local food scene.
It is as captivating as its menu. Founder Kameel Srouji has created a warm and inviting atmosphere that treats everyone like family, evident in every bite.
The restaurant offers a cozy and inviting ambiance, whether you're at the original Peachtree Center location or the new Midtown one. Their impressive health score guarantees high hygiene standards.
The menu is packed with fresh Mediterranean cuisine, sourced locally and prepared with care. From mouth-watering sandwiches to refreshing salads and sumptuous platters, there's something to satisfy every palate.
Some of the famous dishes include:
Falafel: A delectable blend of flavors for just $12.15.
Chicken Shawarma: A must-try Mediterranean delight at $12.95.
Rosemary Chicken: Savor the rosemary-infused goodness for $14.45.
Vegan Walnut Baklava: A sweet treat for $5.75.
Pistachio Baklava: A nutty indulgence priced at $6.25.
Hence, it is a must-visit for a memorable Mediterranean meal in Atlanta that you must try while you're there.
Thumbs Up Diner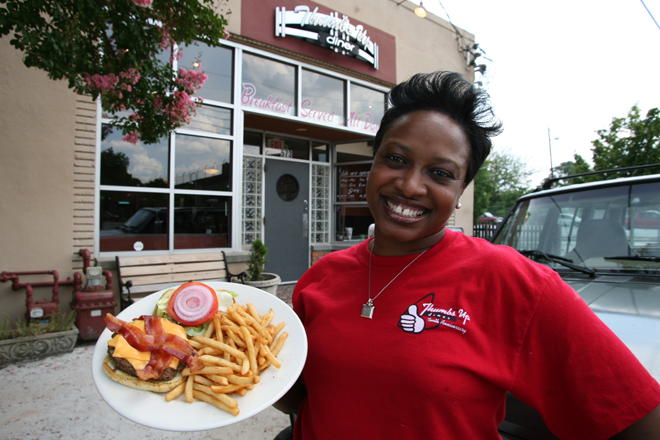 Thumbs Up Diner is this cool Best Budget Restaurants in Atlanta, Georgia which is in the middle of Atlanta. People who live here and even folks visiting love it a lot. They've got a super high rating on TripAdvisor, like 4.5 out of 5 stars, which is pretty awesome!
You can find Thumbs Up Diner at 573 Edgewood Ave SE. It opens early, at 7:00 am, and they serve really yummy breakfast and brunch stuff. They also have another place at 826 Marietta St that has the same delicious food, and it's perfect if you like to get up early and grab a quick bite.
They also have classic Southern breakfast foods like grits, bacon, and big omelets that are amazing.
In short, Thumbs Up Diner in Atlanta is a place you should definitely check out. It's friendly, the food is great, and you won't have to spend too much. Here are the dishes to try when you're visiting this restaurant:
Double Dip French Toast: It's everyone's favorite and costs $6.59. Imagine syrup on your French toast – yum!
Spuds: A quick, tasty snack for just $2.79.
Chicken Sausage: Makes your meal heartier, and it's only $3.39. Enjoy!
Silver Skillet
Silver Skillet, a charming diner in Atlanta, Georgia, has been serving up soulful southern cooking since 1956. This iconic establishment, located at 200 14th St NW, has become a staple in the city's culinary scene, earning rave reviews from locals and visitors alike.
Opening its doors from Monday to Friday between 6:30am and 2:00pm, and over the weekends from 8:00am till 2:00pm, Silver Skillet invites you into a warm, inviting ambiance reminiscent of the classic American diner.
The menu is a delightful array of traditional Southern cuisine, each dish prepared with care and served up with a side of Southern hospitality. Whether you're stopping by for a hearty breakfast or a leisurely lunch, you're sure to find something to tickle your taste buds.
Here are some popular dishes at Silver Skillet:
Chicken Fried Chicken: A comforting classic served with gravy, this dish is priced at around $8.95.
Grilled Pork Chops: Served with two sides, this hearty meal comes in at about $9.95.
Fried Green Tomatoes: A southern staple, these tangy delights are approximately $5.95 for a serving.
Lemon Icebox Pie: This refreshing dessert is the perfect end to any meal and costs roughly $3.50 per slice.
Home Grown
Home Grown, located at 968 Memorial Dr Atlanta, GA 30316, is a local favorite known for its delicious and hearty fare. This Southern diner offers a cozy, welcoming atmosphere that's perfect for both quick bites and leisurely meals. It's one of the most affordable restaurants in Atlanta.
Their menu is a delightful mix of classic American dishes with a Southern twist. Some standout options include:
Basic Breakfast: This staple dish includes two eggs, grits or potatoes, and toast or a biscuit for $8.
Fried Catfish Filet: Served with house-made tartar sauce, this dish comes in at $16.
Pot O' Fries: Served with malt aioli, this side dish is priced at $11.
Strawberry HG Tart: A sweet treat for dessert lovers, one tart costs $4.5 or you can get two for $8.
American Deli
American Deli, is known for its wide variety of subs, sandwiches, and wings. With multiple locations across Atlanta, it's a popular choice for those craving fast, tasty food. It's our top choice among the nice inexpensive restaurants in Atlanta.
Some of their popular dishes include:
10 Piece Wings: Priced at around $10, these flavorful wings are a crowd favorite.
Philly Cheesesteak: This classic sandwich comes in at approximately $7.
Fried Rice: A satisfying side dish, this is priced around $2.50.
Garden Salad: A fresh and healthy option, this salad costs about $4.
How to Make the Most of Your Dining Experience on a Budget?
Dining out is a beloved activity for many, but it can also be a significant drain on your budget if not managed carefully.
However, with some savvy strategies, you can still enjoy Atlanta's vibrant culinary scene without breaking the bank. Here are some tips on how to save money while dining out in Atlanta:
Leverage Happy Hours
Many restaurants and bars offer discounted food and drinks during their happy hours. This is a great way to try out different dishes and beverages at a fraction of the regular cost. Be flexible with your dining times and make the most of these deals.
Share Dishes
Particularly in restaurants known for large portions, consider sharing dishes with your dining companions. Not only does this allow you to try a variety of flavors, but it can also significantly reduce your bill.
Choose Your Dining Day Wisely
Some restaurants offer special deals on certain days of the week. For instance, you might find discounted taco Tuesdays or half-price wine Wednesdays. Selecting the right day to dine can lead to substantial savings.
Avoid Peak Dining Times
Restaurants may offer discounts during off-peak hours to attract more customers. Look out for such deals and plan your meals accordingly.
Skip the Extras
Extras like appetizers, desserts, and alcoholic drinks can quickly inflate your bill. Consider skipping these and focusing on the main course instead. If you're craving something sweet, consider sharing a dessert instead of ordering one each.
Pack Leftovers
If the portions are generous, don't hesitate to ask for a to-go box. You'll not only avoid overeating but also have a meal for the next day, saving you money.
Why is Food an Essential Part of Atlanta's Culture?
Food is an essential part of Atlanta's culture due to its rich history and diverse influences. The city's cuisine reflects both its Southern roots and the broader global influences brought by its diverse population.
Atlanta is renowned for traditional Southern favorites like barbecue, fried chicken, and burgers. However, it also embraces international foods, with Korean cuisine being particularly noteworthy.
Atlanta's culinary scene continually evolves, brimming with creativity, self-expression, and a spirit of innovation. This is evident in the city's high-end chef-driven restaurants that garner national acclaim, as well as its bustling food halls like Krog Street Market, which offer a variety of dining options in one location.
Food festivals and events also play a significant role in Atlanta's food culture. The city hosts numerous food-related events throughout the year, providing opportunities for residents and visitors alike to sample a wide range of dishes and cuisines.
These events not only celebrate Atlanta's culinary diversity but also foster a sense of community among food lovers in the city.
Criteria for Choosing the Restaurants
Choosing a cheap restaurants in Atlanta involves much more than just picking a place to eat. It's about selecting an establishment that offers a dining experience suited to your preferences and needs.
Several factors come into play when making this decision, including the price, quality of food, ambiance, location, and reviews.
Here are the things that you need to take into considerations when choosing a budget restaurant in Atlanta.
| | |
| --- | --- |
| Criteria | Description |
| Price | Is the restaurant within your budget? Does it offer good value for money? |
| Quality of Food | Does the restaurant serve fresh, tasty, and well-presented food? |
| Ambiance | Is the restaurant's atmosphere enjoyable and comfortable? |
| Location | Is the restaurant conveniently located and easily accessible? |
| Reviews | What do other customers have to say about the restaurant? |
The Key Take Away
Atlanta's culinary scene is as diverse as it is budget-friendly, offering a plethora of dining options that offer excellent value for their price. Whether you're a local on a lunch break or a visitor exploring the city, Atlanta has a multitude of affordable dining options that will not disappoint.
For instance, Aviva by Kameel, Thumbs Up Diner, and Silver Skillet are highly rated for their delicious food at reasonable prices.
To sum it up, the value these restaurants offer goes beyond just the price tag. It's about the quality of food, the dining experience, and the opportunity to explore Atlanta's rich and diverse food culture. So, whether you're a foodie on a budget or just looking for a great meal without breaking the bank, Atlanta's affordable restaurants are worth exploring.
And remember, if you're visiting Atlanta and need a place to stay, don't forget to book your motel with us.
I'm Usama Ali. A Content Strategist, copywriter, and editor with over 10+ years in writing. I love to explore the beauty of the world and write about all the personal experiences I have, find the best deals of hotels, and write reviews on hotels after getting surveys, travelling to hotels, and also give tips and tricks to save money on tours using motel.com's blog.